Experience an accredited semester in a Yiddish-speaking environment at the Paris Yiddish Center

The Paris Yiddish Center is pleased to welcome students from all around the world to apply to its accredited Yiddish Immersion Program. We offer intermediate and advanced students of Yiddish a unique opportunity to study and work in a Yiddish speaking environment. While studying with leading academics in the field and working on relevant projects, participants will also be able to enjoy all that Paris has to offer.
The Yiddish Immersion Program is organized by the Paris Yiddish Center – Medem Library  (Maison de la culture yiddish – Bibliothèque Medem), in cooperation with Wrocław University.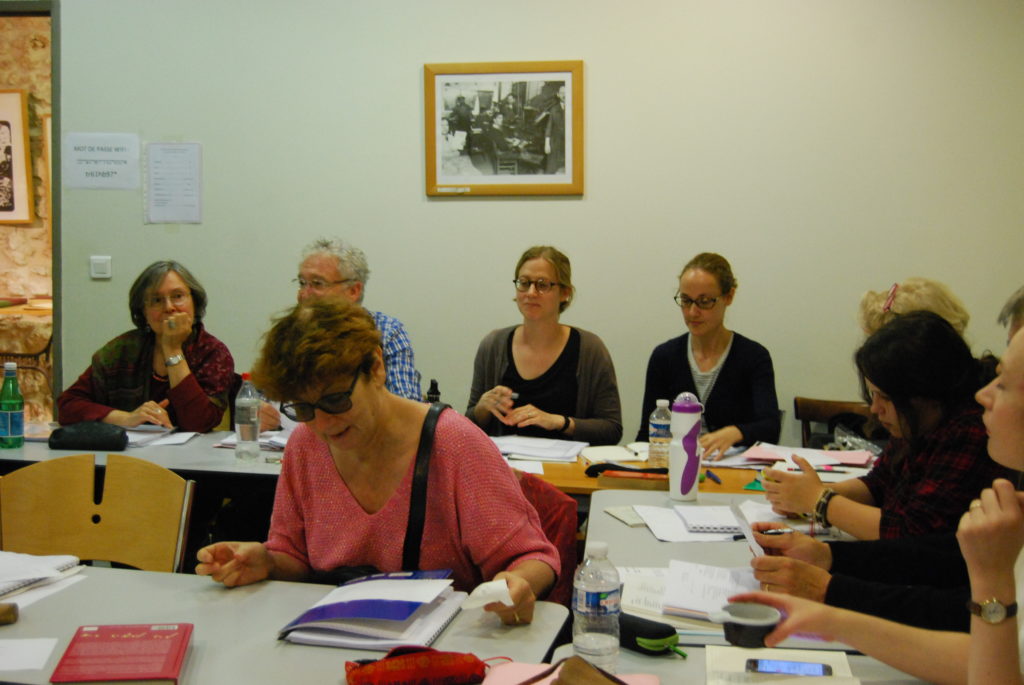 About the Programm
The program includes 236 class hours per semester. Each week, the student will take part in the following classes :
4 hours : Yiddish literature ;
4 hours : Yiddish literature with emphasis on the Hebrew-Aramaic component of Yiddish ;
2 hours : Yiddish grammar ;
3 hours : Yiddish conversation (1 hour with a teacher + 2 hours of conversation group with native speakers) ;
1 hour : one-on-one session with a personal tutor ;
Once per month : 7 hours intensive Yiddish literary seminar.
Each student will have a personal tutor to guide her/him and follow her/his progress. Students can acquire 30 ECTS credits upon completion of either track (standardized European academic credits, corresponding to one semester of study), granted by the Wrocław University. It is also possible to follow either track without gaining academic credit.
Options
Students may choose either to concentrate on a general study program in Yiddish language and literature or to undertake a specific research project.
A. General Study Program
The general study program will help students deepen their knowledge of Yiddish language and literature. Guided by a tutor, each student will draw up a reading list tailored to her/his level, previous reading experience and personal interests. The weekly one-on-one sessions with the tutor will concentrate on following the student's progress, discussing the literary works and adapting the reading list, if necessary. Students who want to to qualify for academic credit (30 ECTS) will be required to pass a written and an oral exam.
B. Research Project
Students preferring to focus on a research project can either come with their own projects or work on a research project based on the Medem Library's archives of prominent Yiddish authors and artists. In both cases, the vast holdings of the Medem Library (Europe's largest Yiddish library) will be available to students, as well as the guidance and expertise of the librarians. Research students will be supervised by Dr. Natalia Krynicka and other teachers. The weekly one-on-one sessions with the tutor will concentrate on following the student's progress on their research project. For academic credit (30 ECTS), students will be required to complete an academic research paper. Students are encouraged to write their paper in Yiddish, but they may also write in English, French, Polish, German, Spanish or Hebrew.
Semester periods
Fall semester (September–January)
Spring semester (February–June)
For all inquiries write to talmidim@yiddishweb.com